Klezmerbluegrass
Paul Taylor Dance Company's Klezmerbluegrass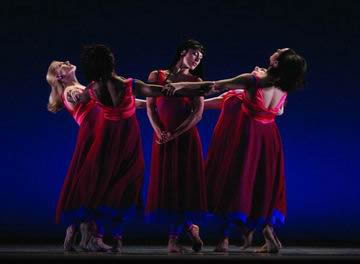 Photo credit Todd Rosenberg
Klezmerbluegrass was commissioned by the National Foundation for Jewish Culture to celebrate the creative synergy between Jewish and American culture, on the occasion of the 350th anniversary of Jewish life in America (1654-2004). This exciting new dance is set to music on the Klezmer Mountain Boys' CD: "Margot Leverett and the Klezmer Mountain Boys" The band performed it live with them on March 1, 2005 at City Center in NYC. The company plans to tour the piece in all 50 states, using the CD.
Jewish Week
Paul Taylor
"I came across Margot's music and it was so very expressive and exciting. It was so very perfect for dancing."
New York Times
by John Rockwell
"The traditional music arranged by Margot Leverett and performed by her Klezmer Mountain Boys ingeniously blends the two musical styles, and it sounded both winsome and soulful... Mr. Taylor's dance alternates exuberant hoedowns with emotive expression."
Klezmerbluegrass
by Clive Barnes (Associated Press)
"tells all, and this joyous Lower East Side hoedown -- commissioned by the National Foundation for Jewish Culture to honor 350 years of Jewish life in America -- is an absolute charmer. Think "Oklahoma!" meets "Fiddler on the Roof." Its traditional klezmer and bluegrass music has been arranged by clarinetist Margot Leverett, who played it with a combo called the Klezmer Mountain Boys. As the insistent beat and triumphant bleat of klezmer take on country airs, the Taylor dancers, led here by Silvia Nevjinsky, Annmaria Mazzini, Michael Trusnovec, Julie Tice and the dazzling, virtuosic Richard Chen See, weave and interweave, perky and languorous by turn, with a wonderfully appealing verve."
Boston.Com
by Claudia La Rocco, Associated Press Writer
"'Klezmerbluegrass is an exuberant work for 15 dancers. It highlights Taylor's skill with big, interlocking patterns -- think hoe-down meets Jewish wedding, danced to the irresistible live music of Margot Leverett and the Klezmer Mountain Boys. The score melded recognizable melodies from these Old and New World traditions, from Leverett's sensual clarinet to Barry Mitterhoff's lively mandolin."
Star Ledger
by Robert Johnson
WAVE OF HUMANITY: Paul Taylor opens 50th anniversary with a heart warmer "Leverett's music recombines the melodic themes and performance practices of European Jewry and American hillbillies into a hybrid strand of DNA. The results are delightful and, significantly, neither culture loses its identity." "A folksy ensemble piece, 'Klezmerbluegrass' suggests a hootenanny held over yonder -- way over yonder -- no, farther -- so far over yonder, in fact, that it's in Poland. Commissioned by the National Foundation for Jewish Culture, the dance employs a musical score by composer Margot Leverett that integrates wailing, klezmer traditions with the fancy guitar-pickin' of bluegrass."
Washington Post
Paul Taylor's Marvelous Melting Pot
By Sarah Kaufman
"The sense of something new and wonderful emerging from mixed traditions bursts out of "Klezmerbluegrass," the new work by Paul Taylor that opened his company's magnificent program Thursday night at the Kennedy Center Eisenhower Theater. It is clear before the curtain goes up, in Margot Leverett's lyrical arrangement of klezmer and bluegrass music. The mosaic is there at all once: the swooping, supple notes of the clarinet, the wailing violin, the loping guitar that quickens the pace, joined by bright, lift-you-out-of-your-seat fiddling."