Margot Leverett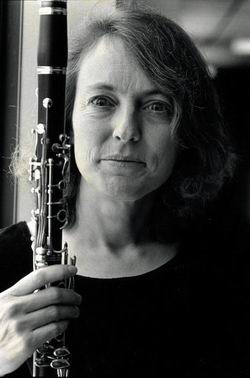 Margot Leverett is one of the foremost clarinetists of the klezmer revival. Classically trained at Indiana University School of Music, she was involved in avant-garde music when she first heard klezmer, the dynamic East European music traditionally played at Jewish weddings. Leverett was a founding member of the Klezmatics in 1985 before moving on to establish a solo career. Her first CD, "The Art of Klezmer Clarinet," a tribute to classic klezmer of the 20's and 30's, was released in 2001 on Traditional Crossroads (CD4296) to glowing reviews.
Her current project, "Margot Leverett and the Klezmer Mountain Boys" is an all-star band combining the best of bluegrass and klezmer. Their self-titled CD, released to rave reviews in 2002, was choreographed by the Paul Taylor Dance Company in a new work entitled "Klezmerbluegrass". Their latest release "Second Avenue Square Dance" features guest artists Jorma Kaukonen and Hazel Dickens and is available now from Traditional Crossroads.
Margot Leverett was recently featured as a guest soloist with the Philadelphia Orchestra, along with Udi Bar-David and the artists of Intercultural Journeys, a concert and cultural organization to promote intercultural dialogue. www.philorch.org. She has toured Japan twice with The New York Ragtime Orchestra and has been featured in several Off-Broadway productions.
Margot Leverett was a staff instructor at KlezKamp for over 10 years and has also taught at KlezKanada, Klezkamp West, Klezmerquerque, and at colleges, music festivals, and Jewish organizations across the country and Europe. For information about her Klezmer workshops, Lecture demonstrations and Jam Sessions visit workshops page
Rhythm Magazine
"Margot Leverett is one of the finest clarinetists to emerge from the klezmer revival...Leverett's clarinet, crying with sorrow or bursting with shouts of joy, speaks with the highly inflected vocabulary of the great players to whom the recording pays tribute."
Boston Globe
"This is the classic sound of Eastern European-derived clarinet played by a master and a worthy addition to the new generation of klezmer recording... Among the stellar soloists on the scene."
Philadelphia Enquirer
"Klezmer clarinet virtuoso"
CMJ New Music Report
"Her extensive classical training lends an elegance and seriousness that makes the music even more riveting. Her early avant-garde background keeps the music fresh and exciting. And her first-hand lessons learned with true klezmer masters gives her music authenticity and poignancy."