Workshops
Lecture/demonstration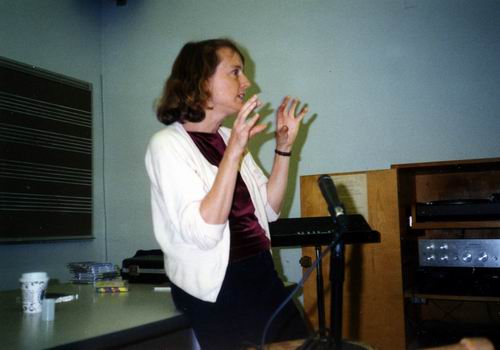 "Klezmer Bluegrass: a lecture/demonstration on klezmer and American music". In this unusual presentation, Margot Leverett uses audio samples and live demonstration to illustrate the history of klezmer music in America and its intersection with other kinds of American music. You will experience the story of the klezmer revival, and discover surprising parallels and similarities with early mountain fiddle music and bluegrass.
Margot Leverett's Klezmer Workshops
Taught by one of the leading figures in contemporary Klezmer music. For musicians at all levels, from beginners to professional to active listeners, wishing to learn about klezmer. By the end of the workshop all participants will have a basic understanding of the rudiments of klezmer modes, rhythm and ornamentation and will form an impromptu klezmer band to start playing klezmer!
Children's Klezmer Workshops
This exciting interactive workshop introduces children of all ages and skill levels to the world of klezmer. Margot Leverett leads the children in forming an impromptu klezmer band and playing klezmer tunes!
Children's Klezmer/Bluegrass Hoedown!
Margot Leverett and Leah Wells teach children to recognize the different sounds & instruments of Klezmer and Bluegrass as well as some simple dances to do to each kind of music. Then everyone gets up and dances a Klezmer/Bluegrass hora! Fun for all ages.
Community Klezmer/bluegrass Jam Session
Margot Leverett leads this open jam session. Musicians are encouraged to bring their instruments. Musicians and music lovers can all jump in and learn a tune, sing along, or just enjoy the music!
"I highly recommend Margot Leverett for your event. She has been our guest artist here in Albuquerque for the nationally known Klezmer music and dance festival: Klezmerquerque 2004 and 2005. We loved her so much that we asked her to be our guest artist for 2 years in a row.
She is a true Klezmer virtuoso and has a unique connection to the Klezmer clarinet style because of her relationship and studies with the famous Klezmer clarinetist Sid Beckerman. Her formal western training in the instrument makes her a uniquely educated and scholarly teacher for students who are similarly trained, but also want to learn about folk music. Margot also makes Klezmer music accessible and enjoyable for all types and ages of musicians. She is a pleasure to work with, she works very hard, and the audience and students love her."
Beth Cohen, Cantorial soloist and music director, Congregation Nahalat Shalom.
"On behalf of The Spertus Institute, please accept my heartfelt thanks for your stellar presentation yesterday. Our audience was captivated by your talk and inspired work. I look forward to working with you again in the future."
Dr. Hal M. Lewis, Dean of Public Programming, The Spertus Institute www.spertus.edu
A unique opportunity to hear an interesting blend of two disparate genres of music. We live in a "Bluegrass" area, but I would guess our students never even knew what Klezmer music was or even associate it with Jewish traditions. For them to see that two disparate worlds could "collide" and an interesting and exciting "new" genre formed had to be eye opening. One student remarked to me: "that was cool." These days, that's high praise. This event not only enhanced cultural diversity, it provided cultural diversity. Students could see that although they may not be of the Jewish tradition and/or even like Bluegrass music, that by listening and enjoying the performance, they valued differences outside and beyond their own culture and grew as musicians and people because of it. " Jeffrey Pappas, Chairman, Dept. of Music, Marshall University.